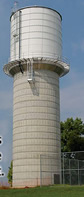 Cady Aquastore Inc., in Sycamore, is the Midwest dealer for Composite Elevated Aquastore Tanks (CET), which are manufactured by Engineered Storage Products Company of DeKalb. A CET is built on top of a concrete tower as shown in the photograph, and is used for municipal water storage. If you've ever looked closely at the structure in front of the Engineered Storage Products manufacturing plant, you'll see that it is built using curved glass-fused-to-steel sheets that are bolted together.
The main competition for CET tanks is the traditional ball-shape tower we're all used to seeing. Ball-shape towers are manufactured using a different process, a process that allows for graphic customization. Increasingly, municipalities ask for tanks with graphic styling that goes beyond the traditional basic design of the town's name.
The Aquastore tank on top of the CET tower is available in six basic colors. A town's name can be added. Cady Aquastore asked Balcom-Vetillo Design (B-VD) in DeKalb for ideas on how to adapt the Aquastore technology to a higher level of graphic design. NOTE: They used "DeKalb" and "Manitowac" on the tanks shown here only for demonstration purposes.
In order to get an accurate idea of how the design would appear outdoors and on the horizon, B-VD created 3-D, to-scale models of CET tanks.
If you take a close look at the six designs, you'll see that Randy Ford, B-VD's creative director, focused on adapting different color sheet "squares" to the same tank. Once he began to move these solid squares of color around, he made the leap to research the designs found in quilt pattern books. They were a gold mine of inspiration! Even with a limited color palette, a wide range of styles became possible. Now when Cady Aquastore makes a presentation to a municipality, they're able to show the broader graphic potential of a CET tank.